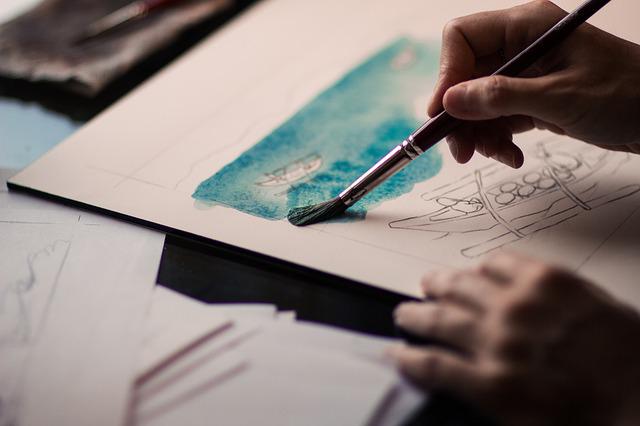 Creativity in everyday life: how to bring more colour into your life with painting
Creativity in everyday life: how to bring more colour into your life with painting
Creativity can be so much more than just a hobby. It is an important life aid that helps us express our feelings and cope better with everyday life. Painting is the perfect way to be creative and create something beautiful at the same time. Because everyone is creative – there is no right or wrong!
Creativity is for everyone

Everyone is creative – whether you call yourself "artistic" or not. Creativity is something we all have inside us and can live out every day. It is the ability to create something new or to look at an existing thing in a new way.
Creativity can show itself in many areas of life – from designing your home to cooking a new recipe. Even if you don't have "artistic talent", you can still use your creativity in many areas of everyday life. Here are some ideas on how to bring more colour into your life:
1) Get out into nature: Whether you're walking, jogging in the park or cycling, nature offers endless inspiration for your creativity. Look at your surroundings with new eyes and let the beauty of nature inspire you.
2) Make music: Music is a great way to unleash your creativity. Listen to different genres and discover new music that inspires you. Or try something new yourself and take an instrumental course.
3) Dance: Dancing is a great way to move your body and soul. Let the music guide you and move freely – there is no right or wrong!
4) Paint/Draw: Painting and drawing are classic ways to express your creativity. Try different techniques and styles and find out what you like best. There are no rules – let your imagination run wild!
5) Discover new places: Spend time exploring new places – in your city or further afield. Visit museums, galleries or other cultural institutions and let the artwork inspire you. Or simply take a walk through an unfamiliar area and discover new perspectives.
Creativity in everyday life: How to bring more colour into your life with painting
We all know the feeling: everyday life is grey and dreary. We feel uncreative and bored. But what can we do to bring more colour into our everyday lives?
One possibility is to be more creative. It doesn't always have to be something big. Even small activities can improve our mood and get our minds off things. One of them is painting.
With painting, we can let our imagination run free and concentrate completely on the colours and shapes. We don't have to think about the meaning or purpose of our work, but can fully concentrate on the creation of the picture.
Painting is also a great way to develop new ideas. By experimenting with different techniques and colours, we can break new ground and maybe even create something new.
So why not pick up your paintbrushes again and bring some colour into your everyday life?
Painting by numbers as a start
If you thought painting was something for children or artists, you were wrong. Even if you don't have much talent, you can create great works of art with paint-by-numbers. This method is perfect for beginners and requires no previous experience. All you need is a little patience and perseverance.
With paint-by-numbers, you learn the basics of perspective and composition. You practise mixing and applying colours. And in the end, you'll have a beautiful painting that you can hang up proudly. So what are you waiting for? Buy a paint-by-numbers set and get started! Painting by numbers with your own photo, for example, is particularly popular.
Creativity leads to success

Creativity is a quality that more and more people are learning to appreciate. Creativity brings colour into our lives and helps us to be more successful.
When we are creative, we see the world with different eyes. We find new solutions to old problems and can realise our dreams. But creativity is also a quality that helps us to cope better with stress and to motivate ourselves.
But what exactly is creativity? And how can we develop it?

Creativity is the ability to create something new or solve a problem in a new way. It is the basis for innovation and growth in every company. Without creativity, many companies would not exist – they simply would not be successful.
But creativity is not only important for companies, it can also help us in our private lives. Creative people are often more successful in their jobs and have more success in their private lives.
How you can develop your creativity

Everyone is creative – but unfortunately many people think that they are not creative. But creativity is something that can be learned and developed. Here are some tips on how to develop and nurture your creativity:
Find out what you enjoy: What makes you happy? What interests you? What fascinates you? Find hobbies and activities that you enjoy and that allow you to be creative.
Free yourself from negative thoughts: Many people block their creativity because they are afraid of making mistakes or doing something wrong. But mistakes are important – they help us learn and develop. So free yourself from negative thoughts and let your creativity run free!
Don't be afraid of change: Many people are afraid of change – but change is the engine of creativity. Only those who are willing to try new things and change their lives can be creative. So dare to try something new! You have nothing to lose – except your fear!